We sailed on the 26th Nov for Lifou, Noumea and the Isle of Pines on the Celebrity Solstice for a December 4th return.
We're quite fortunate in that we live very close to Manly Wharf and our journey began by ferry the early afternoon of the 26th. We were on our way and I must say the kids were jumping for joy, then just as we passed Clifton Gardens the sheer magnitude of the Solstice became very apparent. This ship has 16 levels and cannot duck under the Harbour Bridge, quite the presence.
The on-boarding was a breeze, however I think that may have had something to do with our room category, nonetheless we were on board and literally ushered to a welcome Champagne / OJ Foyer. At which point we decided to simply find our way to our gorgeous Penthouse Suite – without exaggeration the facilities, size, veranda, views and décor certainly surpassed any 5-star property and not to mention the Baby Grand Piano which proudly featured as a centrepiece in the lounge.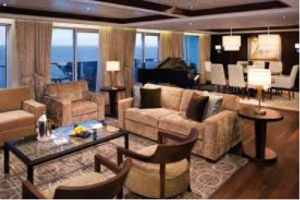 The highlights for us:
Time together as a family with no mobile / device service – WOW, very refreshing! No worries when the kids are hungry…
Exceptional service – dedicated suite personnel and various associated benefits. Highly recommend beverage packages
A show / movie every night – entertaining and a great way to wrap up the day
A seriously well-equipped gym with personal trainers and classes regularly available
Happy and friendly people; everywhere
The clear waters in the South Pacific were transcending
Well organised tours, tendering and sampling
Privacy of retreating to our suite anytime and having ample space / veranda to relax without feeling like we were constantly part of the crowd
My son and I concluding, mind you after numerous encounters, that in general white folks should not dance!
by Robert Semsarian