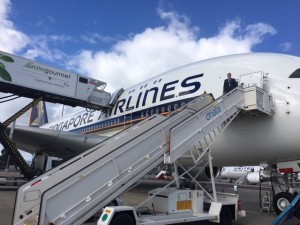 Last week, Account Manager Samantha Ellis and International Consultants Pamela Rodriguez and Vicki Trpcevska were invited to attend a Singapore Airlines aircraft inspection of their new A380.
By attending aircraft inspections, our team develop a deeper understanding of the product by seeing it first hand, resulting in better advice and recommendations to our clients.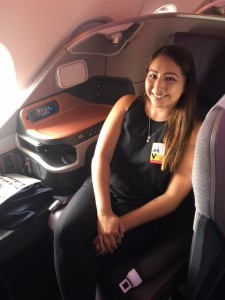 We all thoroughly enjoyed seeing the Business Class and First Class cabins as this is a luxury we hadn't experienced when travelling.
Samantha particularly liked the new aircraft layout which sees downstairs made up of Premium Economy and Economy, with a lot more Premium Economy seats added. This leaves the entire upstairs to be made up of Business and First Class cabins.
The new First Class cabins were most impressive and provided ample space to be able to relax and unwind in comfort on your next flight.
The new configuration of Business and First Class allows particular seat allocations to be be joined together by dropping the middle partition, and is particularly practical when travelling together.
If you would like advice on flights that will feature the new aircraft and the best seats to reserve, contact our team now.