Our Account Manager Samantha, Operations Manager Hanh and International Consultant Vicki had the opportunity to see a behind the scenes inspection of the Etihad International Lounge and aircraft inspection at Sydney Airport.
We were hosted by Eithad and enjoyed a lunch at their International Lounge. The lounge is for all Business and First class passengers. All guests in the lounge are warmly greeted and can enjoy a wide variety buffet as well as ordering from the a la carte menu as well as choosing from a fully stocked bar. For those that want to get some work done there are work stations or for families there is a kids room.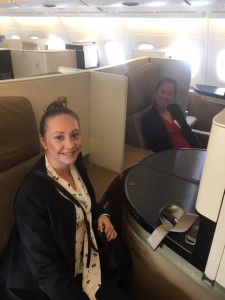 We then proceeded to the aircraft inspection which was in the middle of being prepared for its next departure. The entire downstairs is economy comfortable headrests as well as full entertainment screens and a little extra legroom.
We were all very impressed by the Business and First Class Cabins which are spacious, meals at any time and a lounge area onboard for those wanting to move around. The fully lie flat beds and privacy screens give you the chance to get some rest on your flight.
One can only dream and the Residence is definitely a dream. With a lounge room, private bathroom as well as bedroom you will arrive at your destination relaxed and ready to go. The Residence also includes butler, personal assistance before your flight and chauffeurs when you land.
We are very thankful for the opportunity to experience Eithad lounge and aircraft and this will only enable us to give you all more information with your next International itinerary.